It's snowed here. It's gotten cold. There's a girl wearing a festive red hat with white trim every day at school. The calendar confirms it, December and the holidays are here. This random tabs will focus on some holiday events happening around the web.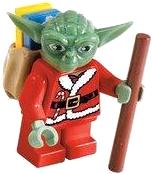 First up, I bet not everyone thinks of LEGO Star Wars when they think of Christmas, but maybe you should. They have put together a
fun holiday themed website
, with video messages you can email to friends, which are quite cute. I highly recommend sending one - I already have! If you do send one, pat yourself on the back because LEGO Star Wars is adding one set to the Toys for Tots basket with every email, up to 1 million. I sent number 7538, so there is time for you to spread cheer in more ways than one. Especially if you know someone who enjoys Santa Yoda or annoying Darth Vader, seeing R2 as a driedel still has me smiling.
Don't quite have a LEGO fill yet (and who can?). Check out the
most amazing artificial Christmas tree
of all time! 33ft of solid LEGO happiness! Way to go London! Loads more pictures including detail shots of the Christmas balls (made of LEGO) the QR code brick ornaments (made of LEGO) and the present under the tree (you guessed it, made of LEGO).
A couple goodies I highlighted last year:
First up Norad Tracks Santa has begun their
Santa's Village Advent Games.
Every day until Christmas Eve a new building will be unlocked in Santa's village and a new game will be accessible to believers (in Santa) of every age. Be sure to tune into NORAD Santa (on
Facebook
,
Google+
,
Twitter
,
Google Earth
, or their
website
) on Christmas Eve (starting at 2pm EST) to watch Santa fly around the world with special videos in major cities. It's a great way to introduce world geography with little kids, and lots of fun for the big kids as well!
Before the big day, be sure to send a personalized video from Santa to someone special in your life.
Portable North Pole
is back with videos of Santa custom made for your child, parent, lover, friend. Simply supply Santa with some information, maybe a few photos, and the magical video will be emailed to the person of your choice. We watched these on our TV las year, and the kids' eyes lit up! I even sent one to each of my parents and my husband.
Now if holiday contests are more your speed.... Hey, don't knock them, I'm waiting on the win from a giveway right now, so if you don't enter, more for me :)
First I'd like you to meet
Make
. Make is an ezine/magazine that features DIY science. They are
giving away
one very sweet build kit every day, and have been since some time in November, but I just heard about it. If you know someone that likes to tear things apart and put them back together, Make is the place to send them, and one of these kits just might make their day.... or you could just give it to me if you win :)
Also offering a holiday giveaway this month is Edmund Scientifics. This is a great science supply resource. They are on a "friend/circle/follower" spree and in return they are offering a shopping spree (dollar amount depends on user response) for simply adding, or remaining with them. So go
circle them
,
like them
, or
follow them
now!
I know there is more stuff, but I'll have to find it again. Feel free to share any wonderful holiday finds you have in the comments!